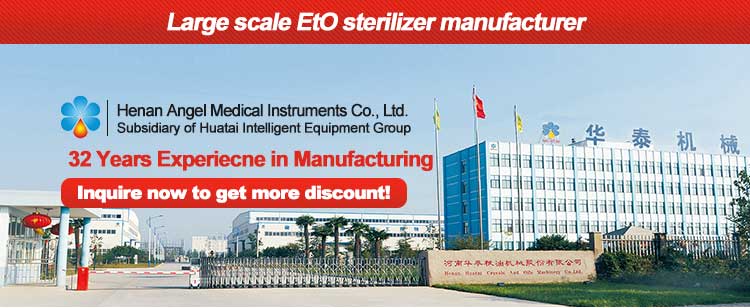 HTAJ-6cube series large-scale Ethylene Oxide Sterilizer is a kind of low-temperature sterilization equipment: This product is designed by using advanced computer technology, automation technology, welding technology and process on the basis of absorbing the advantages of similar products at home and abroad.
(1) Installation requirements of ethylene oxide sterilizer: The ethylene oxide sterilizer must be placed in a well-ventilated place, and it must not be placed near the source of fire. In order to facilitate repair and regular maintenance, 51cm space should be reserved on each side (including the top) of the ethylene oxide sterilizer. Special exhaust piping should be installed and completely isolated from other exhaust piping of the building.
(2) Safety protection principles and precautions for Ethylene oxide Sterilization:
1) Keep ethylene oxide sterilizer and cylinders or cans away from sources of ignition and static electricity.
2) Ethylene oxide storage should be free of fire, no rotating motor, no sun, good ventilation, and temperature below 40 ℃, but it cannot be placed in the refrigerator. In strict accordance with the national regulations on the storage of inflammable and explosive goods.
3) Do not use too much force when dosing or opening the bottle, so as not to spray the liquid.
4) The air concentration of the ethylene oxide working environment is monitored annually.
5) Ethylene oxide staff should be trained in professional knowledge and emergency management.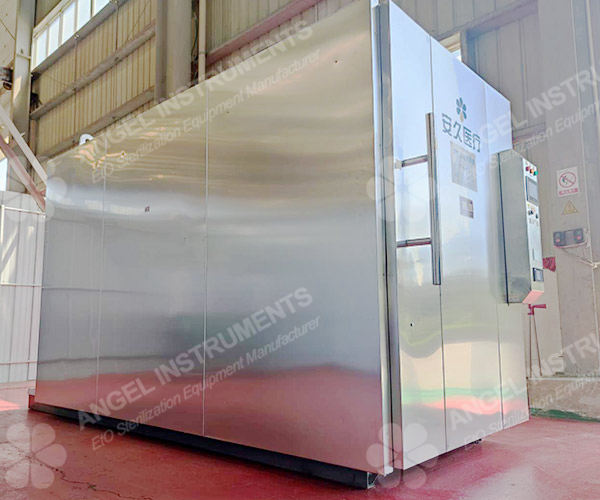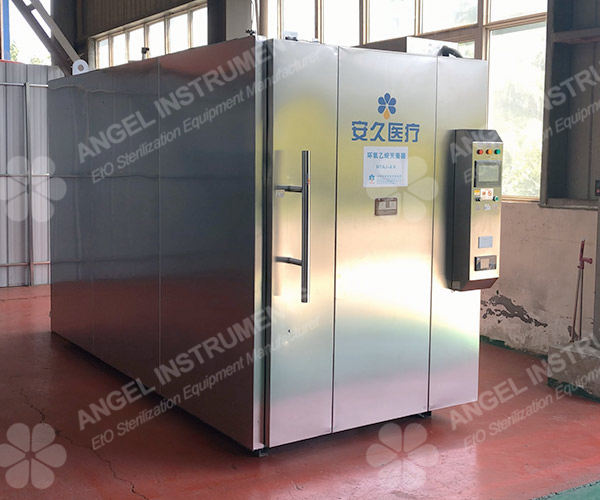 | | |
| --- | --- |
| Product forms | HTAJ-6cube manual door cabinet |
| Power source | AC380V,50Hz |
| Sterilizer size | (Length × width × height): 3500×1900×1800mm |
| Sterilizer volume | 6 m³ |
| Sterilizer interior material | 304 Anticorrosive stainless steel |
| Outer carton material | Carbon steel |
| Temperature during sterilization | 50℃ ±3℃ |
| Working pressure | -60kpa |
| Maximum anti-stress value | -150kpa |
| Humidity during sterilization | 45%-75% |
| Pressure sensor | The built-in pressure sensor automatically detects the pressure inside the cavity to ensure that the pressure in the cavity is accurate and effective. |
| Ethylene oxide sterilization concentration | 1g/L Adjustable |
| Leakage rate of sterilization chamber | The leakage rate is measured under the conditions of no-load and constant temperature in the sterilization chamber, the test pressure is -50kPa, and the measurement time is 1h. The average leakage rate within the measurement time is ≤0.16kPa / min. |
| Sterilization time | 0-99 hours Adjustable |
| Vacuum speed | 15-25 minutes to -60kpa |
| Air replacement | Automatic ventilation, ventilation times and interval time can be set freely |
| Automatic control system | One-key start to end, the whole process of automatic completion with printing records |
| Display status | Display temperature, humidity, pressure, sterilization time, residual gas treatment time, frequency |
| Printer | Record and print the sterilization information of the whole process for verification. |
| Humidity sensor | The built-in humidity sensor automatically detects the humidity in the cavity to ensure that the humidity in the cavity is not less than 45% RH. |
| Residual gas treatment device | The removal rate of the filter with a particle diameter ≥ 0.3 μm is not less than 99.5%. |
| Temperature sensor | The built-in temperature sensor automatically detects the temperature in the cavity to ensure that the temperature in the cavity is maintained within an accurate range of 50 ° C ± 3 ° C. |
| Humidification system | Pulse humidification under vacuum to ensure that the humidity in the cavity is uniform and controllable; the humidity in the sterilization chamber should be controlled within the range of relative humidity 45% -80%; |
| alarm system | High temperature alarm system, ultra-low pressure alarm system; When the sterilization temperature of sterilization chamber exceeds 59℃, the alarm shall be audible. |
| Vacuum rate | Under no-load condition, the time for the sterilization cabinet to vacuum from atmospheric pressure to -60kpa should be ≤30min. |
| Vacuum system | The use of oil-free vacuum pump, simple and convenient, fast vacuum rate, long service life. |
| Multiple protection functions | With over - pressure and over - temperature protection function, more safe and reliable. |
| Heating system | Adopt explosion-proof electric heating device, more convenient and fast |